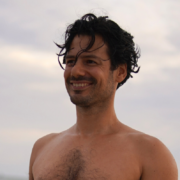 "How slow can you be? How slow can you breathe? How slow can you move? It's all about the transitions, the breath and those moments of stillness interwoven with everything"
My yoga classes are all about linking movement with the breath, finding floatiness and ease. The sequences I teach are inspired by Ashtanga, Rocket Yoga and my own movement background. It's a powerful yet accessible practice, open to all levels, that focuses on moving slowly, breathing deeply and progressively expanding the limitations of what you thought was possible with your body and your mind. 
I started my movement practice at the age of 6 with martial arts (Hapkido) in Brussels, Belgium. In my twenties I discovered climbing and it became my passion. Whenever I wasn't working on my PhD, you would find me on the climbing wall, preferably high up in nature with the winds soaring behind me. After an injury, I discovered yoga. 
I believe that "mastering" the art of Asana translates to being able to move slowly through transitions, creating floatiness, stillness and ease. Finding that flow state and being one with the moment and the breath is what I like to facilitate in my classes. 
In 2022, I moved to Vienna and founded "Acroyoga Vienna" together with my partner Hannah. You can follow me on Instagram @acrochili and @acroyoga.vienna. 
Trainings: 
2023: 300hrs YTT Rocket Yoga and Yin Yoga, Bali
2022: 175h Partner Acrobatics Teacher Training, Spain
2019: 200hrs YTT in Rishikesh, India
Persönlicher Kontakt:
Instagram @acrochili and @acroyoga.vienna